Katharina Kastanov
German Attorney at Law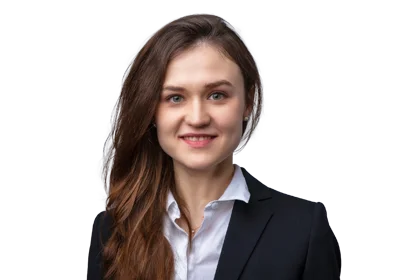 Languages
German, English, Russian
Katharina Kastanov is associated with the law firm's compliance department. At our offices in Frankfurt/Main and Munich, she focuses on directors' and officers' liability, compliance consulting and employment law.
She advises companies as well as private individuals on issues relating to the avoidance and defense of directors' and officers' liability cases and provides support in all compliance-relevant matters, above all in the development and implementation of complex compliance management systems. In addition, she advises and represents her clients in labor law matters.
Her main areas of advice include:
corporate governance
defense against and assertion of claims within the scope of directors' and officers' liability
dutiful conduct in accordance with the Business Judgement Rule
risk management/risk assessment, including prior planning of compliance management systems (CMS)
development and implementation of individual CMS
review and supplementation/optimization of existing CMS structures
advice on all labor law issues
drafting of employment contracts and management service agreements
representation in and out of court
Katharina Kastanov studied law at the University of Regensburg and completed her legal clerkship at the Higher Regional Court of Nuremberg. During her studies, she specialized in labor law and worked in a law firm in Regensburg before joining WINHELLER.
Do you need support?
Do you have questions about our services or would you like to arrange a personal consultation? We look forward to hearing from you! Please fill in the following information.
Or give us a call: +49 69 76 75 77 80