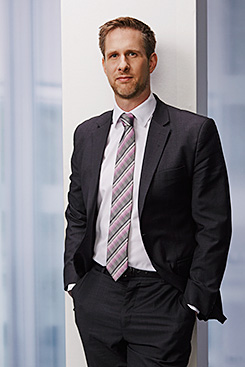 Sebastian Förste
German Attorney at Law
Attorney Sebastian Förste works at our law firm's banking and capital market law department. At our Hamburg office, he advises credit institutions and financial services providers on regulatory issues and represents them in dealings with the Federal Financial Supervisory Authority (BaFin) and the German Central Bank (Bundesbank). His clients primarily include investment brokerage and investment advisory companies as well as asset management companies and FinTechs. In addition, he provides advisory services on the laws relating to cryptographic currencies, like Bitcoin, Ethereum and Ripple, and Initial Coin Offerings / Token Sales.
Sebastian Förste additionally answers our clients' questions relating to the law of financial sales and corporate financing and drafts any required contracts. He also represents our clients in court proceedings and civil-law disputes especially relating to prospectus errors or bad advice, or in investor lawsuits.
Sebastian Förste studied law at Hamburg University, Heidelberg Ruprecht-Karls-University and Uppsala University in Sweden. He served his legal traineeship at the Higher Regional Court (Oberlandesgericht) of Frankfurt. Before joining WINHELLER, he worked at the Brussels office of the large law firm Hengeler Mueller and later joined the Banking/Finance team of Taylor Wessing in Hamburg.
Practices
Lectures
How to start an Initial Coin Offering (ICO)?, WeWork Stadthaus Hamburg, 26.04.2018
ICOs under German, Swiss and UK regulatory law, Blockchain Summit, Zurich, 07.03.2018
Regulation of Initial Coin Offerings, UNICOM Seminars Ltd, webinar, 02.03.2018
etc.
Publications
Rezension, Unternehmensfinanzierung am Kapitalmarkt, Corporate Finance Law 3/2013, p. V
Interview Prof. Dr. Alexander Götz und Niklas Friese zu: Vorstandsvergütung im Wandel - VorstAG zeigt Auswirkungen, Corporate Finance Law 5/2010, p. 355
Associations and Volunteering
Deutscher Anwaltverein
Arbeitsgemeinschaft Bank- und Kapitalmarktrecht
Languages
German, English