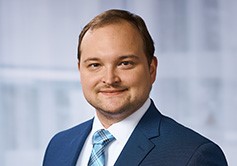 Christian Kempges
German Attorney at Law, LL.B.
Christian Kempges practices as an attorney for WINHELLER in the areas of assets, foundations, succession and public commercial law.
His emphasis is on tax and succession-optimized asset structuring for wealthy individuals and family businesses while shielding assets from private and tax risks (asset protection). In doing so, he focuses in particular on tax law, civil law, corporate law, foundation law, inheritance law, family law and real estate law issues relating to succession-optimized asset structuring.
In addition, Christian Kempges advises both private clients as well as the public sector in all areas of public commercial law. This includes, among other things, state aid law audits, restructuring, grant and subsidy procedures and municipal law issues.
Christian Kempges successfully completed his studies at the University of Mannheim to become a corporate lawyer LL.B. and passed his first state examination. During his studies he already specialized in tax law from a business and legal perspective. In October 2017, he joined WINHELLER as a research assistant with a focus on tax law.
He then completed his legal clerkship in Baden-Württemberg, where he worked for the tax authorities, Clifford Chance LL.P. and WINHELLER. Prior to his studies, he completed an apprenticeship as an industrial management assistant at the Düsseldorf-based family enterprise Teekanne GmbH & Co. KG. In his spare time, he is a passionate cook.
Practices
Property Succession
Real Estate Transactions
Civil Law
Publications
Rechtsformvergleich zwischen Stiftung und GmbH als Holding: Vor- und Nachteile bei der Übertragung von Vermögen, Christian Kempges and Boris Piekarek, NWB Erben und Vermögen,04.11.2020, p. 382 ff.
Languages
German, English