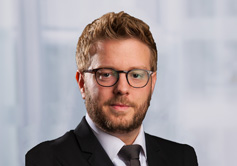 Dr. Sebastian von Allwörden
German Attorney at Law, Certified Specialist for Banking and Capital Markets Law
Dr. Sebastian von Allwörden acts as an Of Counsel in the banking and capital markets department of our law firm. He advises credit and financial services institutions in matters of regulatory law and represents them in their dealings with the Federal Financial Supervisory Authority (BaFin).
One of Dr. von Allwörden's main focuses are cryptographic currencies such as Bitcoin and Ether, including so-called Initial Coin Offerings (ICO) and Security Token Offerings (STO). Dr. von Allwörden develops the optimum legal structure for the issue of the specific tokens for his clients, including the necessary contractual provisions and documentation.
Sebastian von Allwörden studied law at the Universities of Kiel and Stockholm. After completing his doctorate on the topic of "US Terror Lists in German Private Law" under the tutelage of Prof. Dr. Dorothee Einsele (Kiel), he moved to Berlin for his legal clerkship, where he subsequently worked as an attorney for the international law firm CMS Hasche Sigle for several years.
Practices
Lectures
Cryptocurrencies & Blockchain, GP Bullhound/CMS Round Table, Berlin, 17.05.2018
Initial Coin Offering vs. Venture Capital, HHL SpinLab Investor's Day, Leipzig, 18.04.2018
Growth Finance: Initial Coin Offerings (ICOs) vs. Venture Capital vs. IPO – Which type of funding to choose?, München, 12.04.2018
Legal Start Up Guide – Dos & Dont's: Corporate Law Essentials, Centre for Entrepreneurship (TU Berlin), Berlin, 14.11.2016
Associations and Volunteering
Kieler Doctores Iuris e.V.
German-American Lawyers Association (DAJV)
Languages
German, English