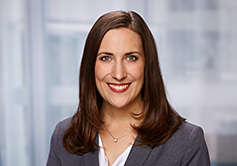 Eva Finder
Accountant
Eva Finder has been supporting our team as an accountant at our headquarters in Frankfurt/Main since 2018.
She is responsible for the preparation of financial accounting, the annual financial statements or statements on excess of receipts over expenses and the business tax returns of our clients. As one of our first points of contact, her focus is on consulting and support for nonprofit organizations. She works closely with our tax advisors in providing advice on all tax and business management issues and the annual declaration duties, especially for associations (nonprofit associations and non-charitable trade organizations), nonprofit foundations and nonprofit corporations (gGmbHs, gAGs, gUGs).
One of Eva Finder's specialties within the field of accounting is cost accounting. She designs detailed evaluation processes to optimize them for the individual needs of our nonprofit clients.
In addition to her specialization in nonprofit organizations, Eva Finder also serves our commercial clients. She also works in close cooperation with our tax advisors and attorneys for tax law. In order to ensure that her knowledge of tax and law is always up to date, she regularly participates in further education and training events.
Before joining WINHELLER, Eva Finder worked for many years as an accountant in a law firm in the Frankfurt/Main area. In close cooperation with recognized tax consulting firms, she was responsible for the financial accounting and annual financial statements of associations and commercial clients.
Languages
German, English