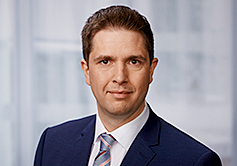 Ronny Schneider
Tax Accountant Assistant
As tax accountant assistant, Ronny Schneider is based at our head office in Frankfurt/Main.
His responsibilities primarily include accounting tasks and preparing annual financial statements and corporate tax returns. His clients are first of all associations, nonprofit foundations, and charitable corporations (gGmbH, gAG). In this area, he closely cooperates with our German tax accountants and attorneys specializing in tax law or nonprofit law.
Before joining WINHELLER, Ronny Schneider was very active in volunteer work for the Federal Self-Help Association for the Physically Disabled in Koblenz (Bundesverband Selbsthilfe Körperbehinderter Koblenz e.V.). For many years, he was in charge of their finances. He completed a retraining course for tax accountant assistants provided by the Academy of Tax and Economy, Frankfurt, and passed the examination with distinction.
During his training for tax accountant assistants, he already gained practical experience with a medium-sized tax accounting firm. Thereafter, he was employed with Brinkmann & Partner a renowned firm focusing on insolvency law. Ronny Schneider regularly attends continuing education seminars and further training classes in tax law and nonprofit law and presently aims to complete his training as a senior tax accountant assistant.
In his leisure time, Ronny Schneider is a passionate amateur photographer specializing on nature shots.
Languages
German, English