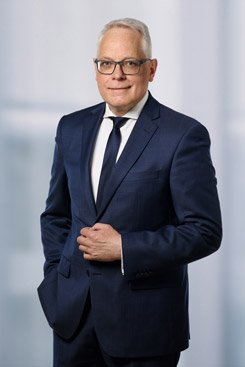 Markus Thomas Boldt
German Tax Advisor
German Certified Tax Advisor Markus Thomas Boldt is Of Counsel at WINHELLER and advises our clients on all questions relating to tax law. His main areas of activity are in corporate tax law and taxation of cryptocurrencies and blockchain business models.
In particular, he advises and represents medium-sized companies with the legal status of a limited liability company, primarily companies with digital business models and other companies from the field of blockchain technology as well as providers of SaaS software solutions and other limited liability companies that trade in cryptocurrencies. Among other things, he also supports our clients with all concerns relating to VAT law, particularly on all VAT issues that arise in connection with real estate. His consulting program often focuses on the digitalization of our clients' accounting systems.
In addition, Markus Thomas Boldt is active in the implementation of fiscal unity in the area of value added tax and corporate income tax and advises, in particular, companies from Scandinavian countries on this.
Markus Thomas Boldt studied tax law at both the University of Applied Sciences in North-Rhine Westphalia and the Ruhr-University in Bochum. Not only does he have decades of experience as a tax advisor, but he also gained extensive management knowledge in his former position as the managing director of one of the largest tax consulting firms in Germany.
Practices
Languages
German, English