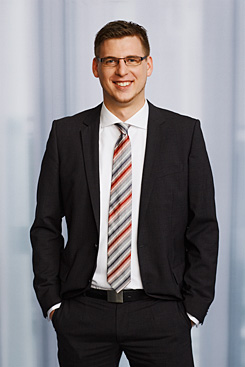 Christoph Henneke
German Tax Advisor
Christoph Henneke has been working for WINHELLER as a German Certified Tax Advisor (previously as Senior Tax Accountant Assistant) since 2010. His main responsibilities include the preparation of financial accounting, annual financial statements and business tax returns as well as tax and business management consulting.
Christoph Henneke and his team mainly advise BaFin-regulated financial services institutions (FDI). This also includes accounting in accordance with RechKredV (German Ordinance on Accounting for Banks and Financial Services Institutions) as well as the preparation of financial information in accordance with Section 25 (1) of the KWG (German Banking Act) in conjunction with FinaRisikoV (German Ordinance on Financial and Riskbearing Capacity Information) to the Deutsche Bundesbank. Our clients appreciate him as a competent partner for outsourced services such as
handling of the external accounting,
advice on questions relating to internal accounting,
taking over of reporting duties,
ongoing payroll accounting and
the support in statutory and voluntary audits of annual financial statements and tax audits by the tax authorities.
You are also welcome to contact him at any time with questions regarding corporate tax planning.
In addition, Christoph Henneke supports other (tax) consulting firms advising BaFin-regulated financial service providers through one-time or regular coachings or by taking over individual FDI-specific tasks, such as the transition from HGB accounting to RechKredV accounting or within the scope of reporting – of course in strict compliance with client protection.
Another focus of his work is the consulting and support of nonprofit organizations. In particular, he advises associations, charitable foundations and nonprofit corporations (gGmbH, gUG) as well as trade organizations.
As a German Certified Tax Advisor and for the benefit of our clients, Christoph Henneke is constantly in close contact with the firm's attorneys, especially in the areas of nonprofit law, banking and capital markets law, corporate and employment law as well as tax planning and asset structuring.
Christoph Henneke passed the examination for senior tax accountant assistants in 2013 as one of the best of his year in the state of Hesse, before he passed the tax advisor examination with above-average results as well and was appointed German Certified Tax Advisor in 2019. Having completed the certified foundation course of the Abbe Institute for Foundations of the Friedrich Schiller University Jena, he is also a Certified Foundation Consultant.
Prior to joining WINHELLER, Christoph Henneke worked for several years in a renowned tax consulting firm in Paderborn, where he is still living and supporting our clients nationwide. He has two sons.
Practices
Annual Financial Statements and Tax Returns
Business Management Consulting
Support in Audits of Annual Financial Statements
Monitoring of Tax Audits
Tax Declarations
Tax Planning
Associations and Volunteering
Chamber of Tax Advisors Westfalen-Lippe
Continuous Training
Certificate Abbe Institute

Certificate of Continuing Education Tax - DATEV
Languages
German, English