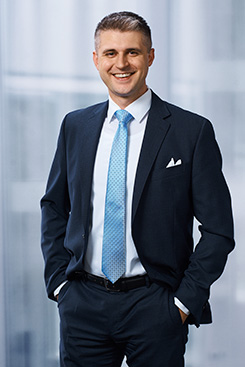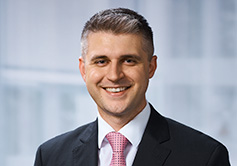 Patrick Rizzo
German Tax Advisor, Diplom-Kaufmann (Business Management Degree)
Patrick Rizzo works as a German Certified Tax Advisor to internationally active commercial companies in all tax and business management issues. His clients include foreign groups with subsidiaries in Germany and other internationally affiliated companies with permanent establishments and branches in the EU or in third countries. He deals with all related complex matters concerning value added tax, income tax, wage tax, social security and balance sheet policy. He handles the reporting of consolidated financial statements and accompanies audits of annual financial statements, is responsible for financial accounting and prepares annual financial statements and company tax returns.
Our internationally engaged clients also count on his advice to avoid double taxation in the case of multi-state residences and on tax compliance within the group of companies in the compliant structuring of transfer prices under Base Erosion and Profit Shifting (BEPS).
Patrick Rizzo is often the first point of contact in tax affairs for our international clients when entering the German market. He advises on tax structuring issues concerning the choice of legal form, holding structures and reorganization tax law. In addition, he specializes in the economic and tax review of company acquisitions (Financial & Tax Due Diligence). Our clients appreciate his experience in tax audits and in dealing with tax authorities and courts as well as his excellent English language skills.
Before joining WINHELLER, Patrick Rizzo worked for an auditing company in Eschborn and a medium-sized tax consulting firm. His clients there included an international bank, forwarding agents and trading companies among others. He has been a management consultant since 2011. In 2019 he was appointed tax advisor.
While studying business administration at Johannes Gutenberg University in Mainz, Germany, he founded a stock corporation specializing in trading, serving as Chairman of the Supervisory Board from 2012 to 2016 and promoting its global expansion in the United Kingdom and the United States. From 2014 to 2016 he also headed the US subsidiary's operations as its director.
In his spare time he loves to cook and occasionally flies single-engine airplanes.
Practices
Management consultancy
Business management consulting
Annual financial statements and business tax returns
Credit support during crisis
Audits
Objections and proceedings for legal protection
Actions before fiscal authorities and the Federal Fiscal Court
Annual financial statement audits
Group reporting and consolidation
Tax declarations
Consulting for medium-sized companies
Advice on structuring a company's legal form
Languages
German, English, Italian, Spanish