Ikze Cho
German Attorney at Law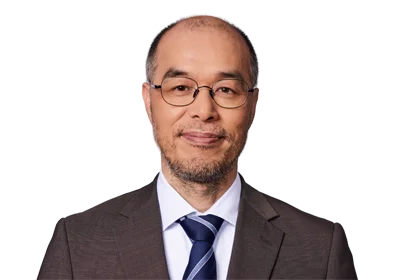 Languages
Korean, German, English
Ikze Cho heads the Korean Desk, cooperating with his law firm D'Light TNBT Startup Legal and Tax. He primarily advises EU-based Korean and Japanese tech startups and corporations - both subsidiaries and parent companies.
Ikze Cho has extensive experience in technology, corporate governance, business, and real estate transactions. In addition, he specializes in Korean InsureTech and FinTech startups, as well as private foundations for high net worth individuals. He mainly advises on corporate law, data protection law, tax law, banking law and insurance law.
In addition to his work at our law firm, Ikze Cho has been leading "The Next Big Thing" project since 2019 to support Korean startups in the EU. This has resulted in his own law firm "TNBT Startup Legal and Tax".
Ikze Cho served as a lecturer at the Law School of Chung-Nam University in Daejon, Korea, as well as at Handong International Law School. He taught Korean law at the Ludwigshafen University of Business and Society, Germany, from 2020 to 2022.
Prior to joining WINHELLER, Ikze Cho worked in Munich, Seoul and Frankfurt/Main for major law firms as a partner or attorney and advised well-known Korean corporations. He is married and has three adult children.
Practices
Korea-related legal issues
Startup related legal issues
Data Protection
Intellectual Property
Tax Law
International Tax Law
Banking law
Insurance Law
---
Associations and Volunteering
Frankfurt/Main Bar Association
German-Korean Lawyers Association (DKJV)
German-Japanese Lawyers Association (DJJV)
Korean IP Professionals in the EU (KIPEU)
Association of Intellectual Property Professionals (VPP)
---
References
Ongoing consulting for a Korean subsidiary
Data protection consulting for a Korean subsidiary
Tax structuring advice for Korean startups
Patent infringement proceedings, defense of a manufacturer of a Korean cleaning robot against a U.S. market leader
Support of the first Korean Insurtech in EU
Drafting a concept paper for a Korean neobank in the EU
Advising on the purchase and sale of real estate for the EU headquarters of a Korean group
Comprehensive accompanying advice on the market launch of a group subsidiary
IPR advice and registration of EUIPO trademarks
---
Lectures
IPR and Digital Health Care in Germany, Korean Trade-Investment Promotion Agency (KOTRA), 2022
European Family Foundations for Korean HNWI, Zoom lecture for Korean Entrepreneurs, Microprotect Korea, 2022
Establishing Korean Banks in the EU for Korean Startups, Zoom Lecture for Korean Entrepreneurs, Microprotect Korea, 2022
Korea-EU IPR License Royalty Taxation, Zoom Lecture for Korean law firms, 2022
IPR Infringement Disputes, Korean Trade-Investment Promotion Agency (KOTRA), 2021
---
Publications
GDPR in EU, 14-part newspaper series for Korean companies in the EU, Korean weekly Kyoposhinmun, 2022
License Agreements, Korean-English edition, Bubyoungsa, Pagenberg, Cho, 2006
---
Do you need support?
Do you have questions about our services or would you like to arrange a personal consultation? We look forward to hearing from you! Please fill in the following information.
Or give us a call: +49 69 76 75 77 80