14.07.2020
WINHELLER and the Swiss firm ACCOINTING AG have entered into a strategic partnership and now offer German crypto investors an exclusive service for preparing their tax returns and managing their crypto portfolios. Besides a crypto tax report, private crypto investors can book an accompanying letter, a letter of appeal, phone support as well as three different crypto tax packages.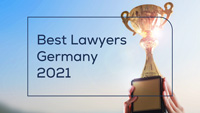 26.06.2020
Awarded! WINHELLER is represented by two lawyers in the 2021 Best Lawyers Ranking. Dr. Thomas Dehesselles and Stefan Winheller, both certified specialists for tax law, are among the best lawyers in Germany in the field of tax law. The U.S. publishing company Best Lawyers determines the most renowned legal advisors in Germany exclusively for the German newspaper Handelsblatt.
15.05.2020
Which attorneys can you rely on? Who is particularly familiar with which legal field? And who made a good name for themselves amongst colleagues and customers? Among 398 companies, WINHELLER has made it into the 2020 best list of the German magazine brand eins /thema in the field of tax law. This makes the firm one of Germany's best business law firms. The brand eins award was presented for the first time this year. More than 2,600 attorneys and in-house lawyers were interviewed.
Archive 2014
The international children's fund nph (nuestros pequeños hermanos) is running children villages in more than nine Latin American countries. The organization was founded in Mexico in 1954 by Padre William Wasson. Most of the work is financed by private donations. Therefore, WINHELLER is supporting the Christmas Fund again in 2014. Children in need get the chance to receive accommodation, nutrition, clothing and mediacal care.
On October 29th, 2014, we launched the global network ofDigital Finance Lawyers, jointly with our Primerus partner law firm MME Partners from Zurich. Network members are law firms and accounting firms from all over the world specialized in cryptocurrency law. As Germany's leading law firm in the field of cryptographic currencies, it is our wish to bundle the knowledge of international experts on cryptocurrency law, so that clients can profit.
Archive 2013
Like last year, we decided to support charitable organizations rather than sending Christmas cards:
Wings of Help / Luftfahrt ohne Grenzen e.V.
The organization is based at Frankfurt's airport. It supports other humanitarian organizations worldwide through the logistic coordination of air transport of rescue workers, supplies and patients in currently troubled areas, such as the Philippines and Syria.www.luftfahrtohnegrenzen.de
Friends of the Orphans / nph Deutschland e.V.
For more than 40 years, Friends of the Orphans has worked to end the vicious cycle of poverty by giving safe and loving homes, as well as brighter futures to children in Latin America and the Caribbean. The organization helps transform the lives of orphaned, abandoned and disadvantaged children by creating families for life through values of unconditional love, shared responsibility and education. WINHELLER supports the Christmas project Electricity Net for Children's Home in Nicaragua.
Now, virtual currencies are leaving behind their marginal existence in Germany. Worldwide, there are about 500.000 transactions a day. For German citizens, low transaction fees are a substantial reason for using virtual currencies. This is why Bitcoin Deutschland GmbH recently announced the company's cooperation with the Munich based Fidor Bank AG. The provider of the leading trading platform for Bitcoins in Germany (www.bitcoin.de) received legal advice from the specialized law firm WINHELLER: especially on questions related to bank supervision, during the negotiations regarding the cooporation agreement with Fidor Bank AG and in connection with the legally compliant structuring of client relations.
Experts have been aware of Bitcoins for years. Hardly noticed as "digital currency" a few years ago, the distribution and acceptance of Bitcoins has meanwhile increased immensely.
Thanks to the cooporation with Fidor Bank AG (www.fidor.de), Bitcoin Deutschland GmbH is going to convey Bitcoins on its platform www.bitcoin.de as an intermediary bound by contract through a bank authorized in Germany. So www.bitcoin.de is the first Bitcoin trading platform in Europe with a direct cooporation with a bank regulated by the Financial Supervisory Authority. The cooporation partners thereby set the standard for the up to now unregulated market of Bitcoins.
Archive 2012
Like in the past year, we decided to support a charitable organization rather than sending Christmas cards or gifts.
We chose to contribute to the wonderful help that Luftfahrt ohne Grenzen e.V. / Wings of Help provides internationally. The organization is based at the airport of Frankfurt, Germany. It supports other humanitarian organizations worldwide through the logistic coordination of air transport of rescue workers, supplies and patients in currently troubled areas. To name just a few examples: Haiti, Fukushima/Japan, Syria. Please visit the organization's website to learn more about Luftfahrt ohne Grenzen e.V. / Wings of Help.