Thomas Schwab
German Attorney at Law, Certified Specialist for Commercial and Corporate Law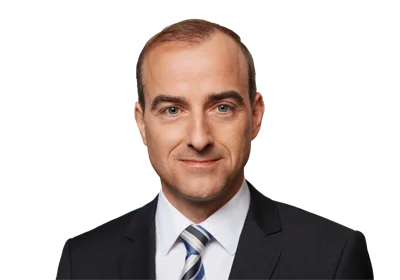 Languages
German, English, French, basics of Spanish and Italian
Attorney Thomas Schwab's practice is focused on contract, corporate and business law matters. He counsels business clients on German inheritance law, drafts business contracts, operating agreements, bylaws, and comprehensive legal opinions, and enforces our clients' claims against debtors.
Attorney Schwab also assists non-European corporate and high-net-worth clients establishing business operations in Germany by providing legal counsel and advice on everything from selecting an appropriate legal form to incorporating and applying for German visas, residency permits and the EU Blue Card.
Besides his general business and contract law practice, Attorney Schwab assists clients with U.S. immigration and visa law issues. He advises clients intending to travel or immigrate to the U.S. for personal or business reasons regarding all applicable visa requirements and ensures that they are properly represented during the entire application process before the various U.S. government agencies, including the U.S. State Department and U.S. Citizenship and Immigration Services.
The visa application process is often closely tied to questions of U.S. corporate and international tax law. This is especially true with regard to all visa categories that require a substantial investment in the U.S. In these cases, Attorney Schwab relies on in-house colleagues and partner firms in the U.S. to ensure that the U.S. business is properly structured and managed.
At Freiburg University, Attorney Schwab studied law, philosophy, musicology, English and French literature. He is a Certified Specialist for Commercial and Corporate Law and a licensed emigration advisor (Federal Office of Administration).
Practices
---
Associations and Volunteering
German Lawyers' Association
American Chamber of Commerce in Germany e.V. (AmCham)
Professional church organ player
---
References
Bits of Gold Ltd.
Comprehensive advice on corporate law, employment law and tax law (i.a. foundation of a German Limited Liability Company and the design of employment contracts)
Fashion One (Europe) N.V.
Advice on trademark law and corporate law
Ripke GmbH & Co. KG
Application and consulting concerning an E-2 visa and advice on incorporation in the USA including taxation aspects
The Children's Aid Society of Simcoe County
Comprehenesive advice on inheritance law (i.a. withdrawal of inheritance)
---
Continuous Training
Holder of DAV Certificates 2009-2018
---
Publications
Doing Business in Germany: Which Legal Form is Right for Your Company?, Uwe Müller and Thomas Schwab, Primerus Paradigm, Fall 2019, p. 38f.
The German Green Card is Blue, Thomas Schwab, Primerus Paradigm, Winter 2013, p. 46f.
---
Do you need support?
Do you have questions about our services or would you like to arrange a personal consultation? We look forward to hearing from you! Please fill in the following information.
Or give us a call: +49 69 76 75 77 80